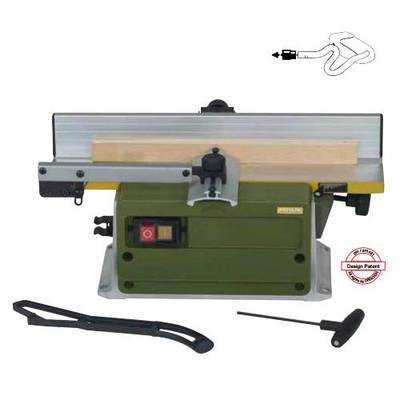 AH 80 Surface Planer
Product Description
Description
Supporting construction all made of die-cast aluminium with CNC-machined fits. Pre-condition for vibration-free, clean planing of soft and hard woods.
The heart of the machine: Ball-bearing mounted planer block with exchangeable HSS blades. Belt-driven by special low noise DC motor. Plane-milled table, of which the right table half is fine adjustable via toggle screw. Adjustable longitudinal stop, to both sides inclinable through 45° (scale available). Practical safety milling protection that does not interfere during work. Main switch with emergency-stop and restart protection. Including suction connection and push stick.
Technical data:
230V. 200W. 50/60Hz. Table 400 x 80mm. Planing width 80mm. Maximum chip removal (infeed) 0.8mm. Speed 6,000rpm. Weight 5.5kg. Insulated to class 1.
NO 27 044
Replacement planer blades for AH 80
HSS steel, 82mm long.
NO 27 046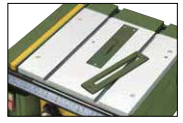 For fine mechanics, model building, mould construction, toy manufacture, architects, model carpenters and fitters.
For cutting wood, non-ferrous metals, plastics, Plexiglas, glass fibre reinforced sheets, foam and many other materials. Stable construction because load bearing parts and plane-milled table are made of die-cast aluminium.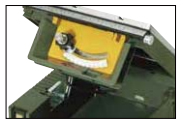 The micro-adjustable, precise and stable longitudinal stop provides decisive advantages: Corrections even smaller than 1/10 mm can be made after coarse adjustment using an adjusting screw. The height adjustable and 45° tiltable saw blade makes it possible to cut double mitres when used together with the angle stop.
Low-noise drive using DC special motor with Optibelt toothed belts. Ball-bearinged saw blade shaft. Tungsten tipped saw blade 80 x 1.6 x 10mm (24 T). Additional work piece pusher and non-slotted ABS sawing gap cover for tight tolerances between saw blade and table.
Technical data:
230V. 7,000rpm. Mitre infinitely adjustable up to 45°. Table size 300 x 300mm. Cutting depth 1 – 22mm. Saw blades between 50 – 85mm can be used (with 10mm centre hole). Weight approx. 6kg.
NO 27 070