Router base OFV
Router base OFV
Product Description
Description
For slotting, milling grooves and milling edges.
Regardless whether with parallel limit stop (maximum throat 150mm), for circular milling with centring pin (100 400mm) or freehand. Adjustable depth control with preselectable stroke. Ideal also as drilling guide for round parts through prism in the guiding plate.
NO 28 566
10-piece wood router cutter set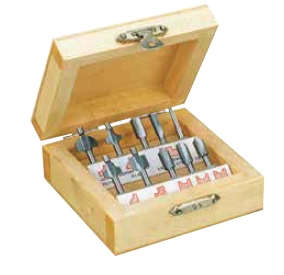 Carbide cutters. For wood, fibre boards and plastic. Clean relief grinding ensures good work results and surface quality. High stability. All shafts 3.2mm.
NO 29 020
Tungsten carbide router cutters

For wood, fibreboard and plastics. Clean relief grinding for good work results and surface quality. High stability. Shafts 3.2mm
NO 29 024 slot cutter 3.2mm
NO 29 026 slot cutter 4.3mm
NO 29 028 slot cutter 6.5mm
NO 29 030 Rounding over cutter 6.4mm
NO 29 032 V-slot cutter 6.5mm
NO 29 034 Combi cutter 6.5/2.5mm
NO 29 036 Core box bit R 3.2mm
NO 29 038 Rebating cutter 6.4mm
NO 29 040 Edge cutter with pin 5mm
NO 29 044 Angle cutter 45