PD 400 Precision Lathe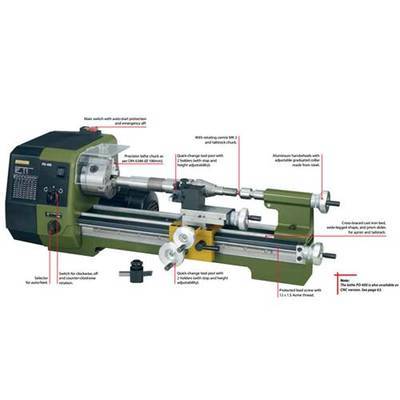 PD 400 Precision Lathe
Product Description
Description
Centre distance 400mm. Swing 85mm. Height over cross slide 58mm.
For machining steel, brass, aluminium and plastic. For face and straight turning, taper turning and thread cutting. With an extensive range of system accessories you can also drill, mill and slot.
Machine bed: Of high quality cross-braced cast iron with wide-legged, prism slides. For vibration-free work even at high loads. With flange and threaded holes at back for fastening the drill and mill head PF 400. Covered lead spindle.
Headstock: Of die-cast aluminium. Oversized main spindle with two adjustable taper roller bearings and MK 3 bore on chuck side. Spindle bore 20.5mm. Run-out without chuck 1/100mm. Rotary switch for engaging the automatic feed (optionally 0.07 and 0.14mm/rev.). Lead and feed spindle with trapezoid threading (12 x 1.5mm).
Tailstock: Of die-cast aluminium. Sleeve 24mm, retractable up to 40mm. With mm scale. With live centre MK 2 and 10mm gear tooth chuck (B 12 bore/MK 2).
Support: Bed carriage made of die-cast zinc. Cross slide (adjustment 85mm) and top slide (setting range 52mm) of steel. Top slide can be swivelled for taper turning (degree graduation up to 45 available). With multiple tool posts and two tool post elements for quick change and easy height adjustment. For turning tools 10 x 10mm.
Drive: Powerful capacitor motor for two speeds and additional threestage belt drive. Spindle speeds at stage 1: 80 330 1,400rpm. For stage 2: 160 660 and 2,800rpm.
Lathe chuck: High quality 3-jaw chuck as per DIN 6386 Class 1 (concentricity tolerance 0.04mm). Capacity through reversing chucks 3 100mm. Including lathe chuck guard with safety shutdown.
Handwheels: Of aluminium, with scale ring adjustable to 0. For cross slide and top slide: 1 division = 0.025mm. 1 rev. = 1mm. For tailstock and lead spindle: 1 graduation line = 0.05mm. 1 rev. = 1.5mm.
Support quick adjustment: By means of large handwheel fastened to bed by toothed rack.
Thread cutting device: For left-hand and right-hand thread. With change gears for 19 different metric pitches: 0.2 0.25 0.3 0.35 0.4 0.45 0.5 0.6 0.7 0.75 0.8 0.9 1 1.25 1.5 1.75 2 2.5 3mm. Also for inch threads from 10 48TPI.
Other technical data:
230V. 50/60Hz. Size L 900, W 400, H 300mm. Weight approx. 45kg. Motor rated input 870W, power output 550W, motor speeds 1,400 / 2,800rpm.
NO 24 400
Insertion tools and additional accessories for the PD 400 system aredescribed on pages 60, 64 and 65.

Tool post
Including two holders. Provides quick tool changes with easy height adjustment. For turning tools 10 x 10mm.
NO 24 415
Individual quick-change holder
Fits the tool post of PD 400.
NO 24 416
4 jaw chuck with independent jaws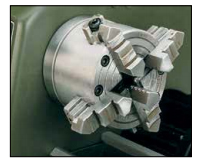 Used to mount irregularly and asymmetrically shaped objects. Each jaw is adjusted individually and centering is thus achieved manually. Hardened, reversible jaws. Chuck diameter 100mm.
NO 24 410
4 jaw chuck, self-centering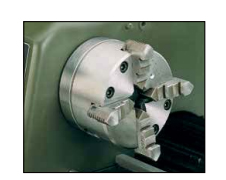 The jaws are not independently adjustable, i.e. they are self-centering. High accuracy. Chuck diameter 100mm.
NO 24 408
Faceplate and clamps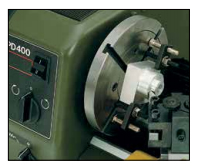 Is fitted instead of the standard chuck. Ideal for clamping larger and asymmetrically shaped work pieces. 125 mm. 2 continuous T-slots. With clamping jaws.
NO 24 412