Precision drill grinder FBS 240 E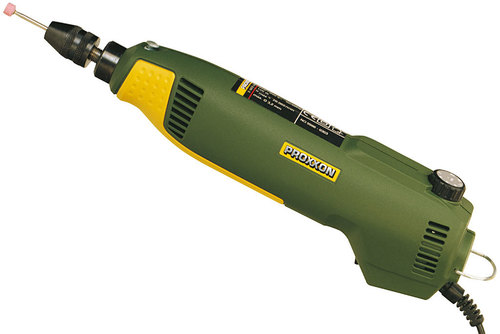 Precision drill grinder FBS 240 E
Product Description
For drilling, milling, grinding, polishing, cleaning, carving and engraving.

The maximum speed of 22,000rpm is continuously variable down to 5,000rpm. The full wave electronic speed control results in virtually constant torque, even at lower speeds, in turn facilitating micro drilling, cleaning and polishing. The spindle runs in a precision ball bearing and is lifted with a lock button. The 20mm collar fits MICROMOT drill stands and vices. The machine is fitted with a special, balanced, low noise DC motor with high life expectancy. Stable housing of glass-fibre reinforced POLYAMIDE with soft components in the finger grip area. Complete with 43 quality inserts in a sturdy plastic case.

The heart of our MICROMOT precision tools for 230V:

Technical data:
5,000 - 22,000rpm. Maximum power consumption 100W, 230V. Length 200mm. Weight 450g. Insulated according to class 2 requirements. Keyless chuck with 0.3 - 3.2mm capacity.


Note:
The FBS 240/E may also be fitted with the optional





Complete with 43 high-quality bits and cutters in a durable polypropylene case.