Precision drill grinder FBS 12-EF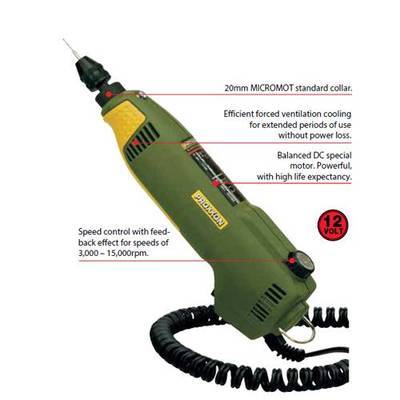 Precision drill grinder FBS 12-EF
Product Description
Description
For precision drilling, milling, sanding, polishing, brushing, derusting, engraving, chiselling and cutting.
Includes keyless chuck (capacity 0.3 3.2mm). A precision ball bearing minimises spindle side play. Spindle lock button for bit changing obviates the need for spanners. Recessed spindle head for inserting MICROMOT steel collets (see page 4). Special, balanced, low noise DC motor with high life expectancy. Variable speed control with feedback effect (high engine power in the lower revolutions area). Housing of glass fibre-reinforced POLYAMIDE.
Technical data:
Direct voltage 12 18V. 100W. Stroke 3,000 15,000rpm. Length 185mm. Weight 450g. We recommend the use of MICROMOT transformers of at least 2A (see page 19).