Mill drill unit BFB 2000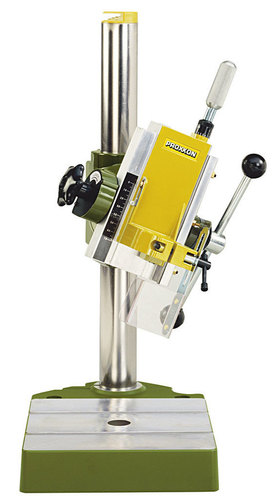 Mill drill unit BFB 2000
Product Description
Head tilts through 90, thus offering a multitude of capabilities: Diagonal drilling, versatile milling without need of special milling bits, milling of diagonal slots. Fine feed selectable allowing fine head feed for milling. With dial and depth scale. Geared rack and pinion feed for effortless drilling. 45mm diameter drill column, 500mm long. Approx. 140mm throat (column outside to tool centre). 65mm stroke. Plane-milled, solid base plate approx. 200 x 200mm with two continuous MICROMOT standard T-slots (12 x 6 x 5mm). Easy clamping of all common drills with standard 43mm spindle collar. Weight approx. 6.5kg.

NO 20 000
Milled, adjustable dovetail slide.

Clear, easily legible depth scale.

45mm diameter column, 500mm long.

Adjustable zero position for fine feed.

Selectable fine feed with lever.

Sturdy, plane-milled work table with 2 MICROMOT standard T-slots (12 x 6 x 5mm).


Note:
Our designers prefer die-cast aluminium. A refined, rustproof and statically solid material. Fittings and feeds are machined on our highly modern CNC-controlled machines (milled, line-bored, lathed, etc.). Pure precision!