MICRO Miller FF 500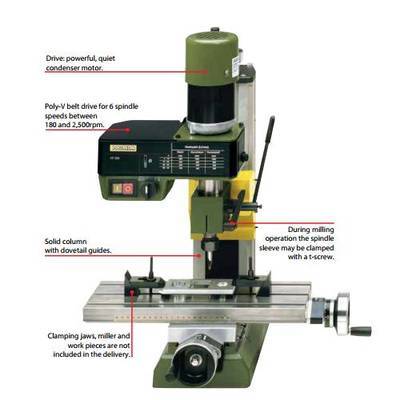 MICRO Miller FF 500
Product Description
Description
A machining centre for milling, drilling and countersinking. With solid column of aluminium continuous casting.
Milling head can be pivoted to the left and right by 90 (with degree graduation). Simple pre-selection of rotational speed by shifting the Poly V-belt. Switch for clockwise and counterclockwise rotation. Sleeve feed (30mm) via lever with scale ring (1 graduation = 1mm). Tool holder using multiple range standard ER 20 type collets (DIN 6499-B): One each of 6 8 10 and 12mm are included (detailed description see below). Extension height adjustment using hand wheel with scale ring (1 rev. = 2mm). Solid, plane-milled steel compound table with three continuous MICROMOT standard T-slots (12 x 6 x 5mm).
Technical Data:
230V. 400W. 50/60Hz. Spindle speeds 180 350 550 800 1,300 2,500rpm. Throat (to spindle centre) 125mm. Sleeve stroke 30mm. Column 120 x 100 x 420mm. Table 400 x 125mm. Traverse range vertical (z-axis) 220mm, transverse (x-axis) 310mm, depth (y-axis) 100mm. Total height max. 780mm. Weight approx. 47kg.
NO 24 320
Multiple range standard type ER 20 collets (DIN 6499-B)
For the Mill/drill PF 400 (from production no. 401-10910) and MICRO Miller FF 500 (from production no. 5648). High concentricity and repeat accuracy. May be reduced to 0.5mm under their nominal diameter (intermediate sizes not required). D = 21mm, L = 31.5mm. One each of 2.5 3 3.5 4 and 5mm are included. Supplied in wooden box with sliding lid.
NO 24 253
Splash guard and chip collecting tray for PROXXON milling machines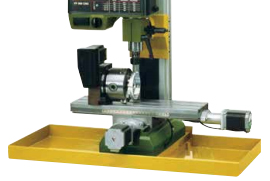 Made of 1.5mm thick sheet steel, powder-coated. Secure stand due to drill holes for fastening to a work surface (the use of steel sleeves keeps the tray tightly sealed). L 700mm, W 420mm, H 40mm.
NO 24 322
Fine feed for accurate adjustments during milling for FF 500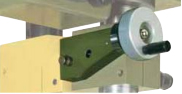 Quick and easy to install. The clutch system enables feed via either the drill handle or the handwheel. The handwheel has 0.025 graduations and may be set to zero. 1 division = 0.05mm.
NO 24 254