FF 230 MICRO Miller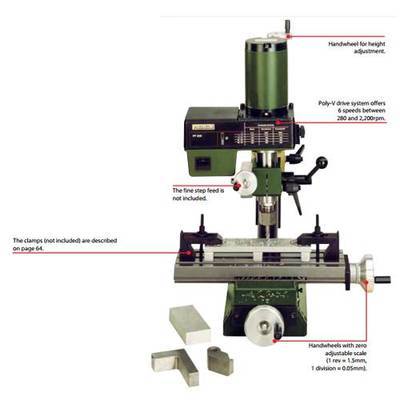 FF 230 MICRO Miller
Product Description
Description
The headstock swivels through 360, indicated on a scale.
Height is adjusted via a zero adjustable handwheel, also used as fine feed when milling (one revolution equals 1mm travel). The quill and headstock may be locked in position, essential when milling. The powerful motor effects drive via a poly-V belt, yielding high torques, especially at lower speeds. Collets of 6 8 and 10mm are included. The solid table is T-slotted to the MICROMOT standard of 12 x 6 x 5mm.
Other technical data:
230V. 140W. 50/60Hz. Spindle speeds of 280 550 870 1,200 1,500 and 2,200rpm. 30mm travel. Table size 270 x 80mm, column 35 x 400mm long. X-Ytravel is 170 x 65mm. Maximum height 180mm and depth 130mm. Overall height approx. 500mm. Weight approx. 17kg.
NO 24 108
Note:
For more lathe and milling accessories and bits and cutters.
Important!
For clean milling we recommend to clamp the quill as well as the headstock onto the column. With the FF 230 this is easily done with the clamp.
Compound table KT 230
As described above, but excluding headstock and column. With 34mm bore to mount the PF 230 mill/drill head (the end fitting of the mill heads 35mm column is machined to 34mm).
NO 24 106
Five piece collet set for PF 230 and FF 230
Includes 1 each of 2.4 3 3.2 4 and 5mm, for milling cutters. Supplied in a wooden box with sliding lid.
NO 24 144
Fine feed for milling machine PF 230 and MICRO miller FF 230

Easily installed in a few seconds.
The feed may be used via either the height feed (vertical) or the fine feed in the tilted position. The graduated scale may be zero reset. One revolution is equivalent to 1.5mm spindle travel (1 division = 0.05mm).
NO 24 140