MICRO cutter MIC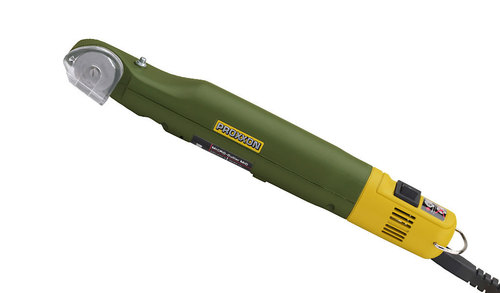 MICRO cutter MIC
Product Description
For cutting wood, plastics, glass fibre reinforced plastic, paper, cardboard, foils and similar materials. With 0.5mm cutting width.

Light: A diameter of just 36mm makes the ergonomically shaped casing easy to handle. A powerful DC special motor in this compact device ensures an astonishingly high cutting performance.

Important:
The MIC makes it possible to "immerse" in the work piece surface (e.g. for cut-outs). The cutting disc guard moves up automatically during cutting.

Technical data:
230V. 40W. 20,000rpm. Maximum cutting depth 4mm. Cutting width 0.5mm. Weight approx. 300g. Insulated to class 2.

NO 28 650




With screwdriver for saw blade replacement.
Replacement cutting disc for MICRO cutter MIC
Made of spring steel (hardness 55 HRC). With cleanly ground crossed teeth.
23 x 0.3mm. With 2.6mm bore.

NO 28 652



Diamond-coated cutting disc for MICRO cutter MIC
With cooling holes: For cutting porcelain, ceramics, plastics, glass fibre reinforced plastic and PC cards. 23 x 0.6mm. With 2.6mm bore.

NO 28 654