MICRO compound table KT 70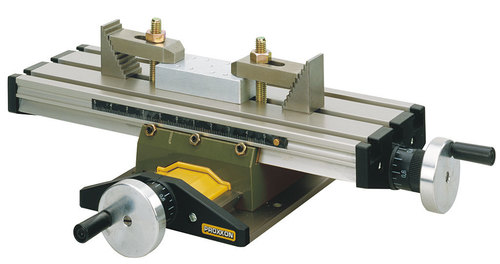 MICRO compound table KT 70
Product Description
Made of solid aluminium with surface treatment and fitted with adjustable dovetail gibs and three T-slots of the MICROMOT standard (12 x 6 x 5mm). Adjustable ruler eases workpiece positioning. Both handwheels have zero-resettable dials with graduations indicating 1 revolution = 1.0mm and 1 division = 0.05mm. The clamps and securing bolts for the MB 140/S and TBM 220 are included.

Other technical data:
Table size 200 x 70mm. X travel 134mm and Y travel 46mm, maximum height 43mm.


Note:
The MICRO compound table KT 70 is now also available as KT 70/CNC-ready (with two stepping motors for the axes X (transverse) and Y (lengthwise).



Step clamps made of steel
The step clamps set is supplied with the KT 70, but can also be ordered separately. Set consists of 2 stepped blocks and clamps, T-slot nuts of the MICROMOT standard, bolts. For work pieces up to 20mm thickness.