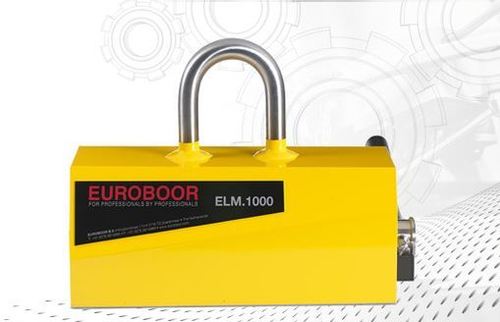 lifting magnets ELM-1000
Product Description
The new ELM.1000 Lifting Magnet is used in steel supply, machine, and die shops where heavy steel objects must be moved rapidly and safely.
The maximum rated lift is based upon lifting a clean, smooth, flat, low-carbon steel plate, 38 mm (1.5") or thicker with the full area of the magnet's lifting surface in contact with the load. Derating is required for plates with rust or scale, plates thinner than 38 mm (1.5") and alloy steels.

FEATURES:


· Safe, light and low maintenance;
· Safety factor 3 ++;
· High safety margin;
· Suitable for plate and round material;
· Special safety system prevents unsuspected deactivation;
· Simple one-hand operation;
· Suitable for temperatures around 80° C.


PLEASE READ THE INSTRUCTION MANUAL FOR ADDITIONAL INFORMATION.
Technical Data
| | |
| --- | --- |
| LENGTH | 306 mm |
| WIDTH | 146 mm |
| HEIGHT | 236 mm |
| DIAMETER OF CRANE HOOK | 20 mm |
| WEIGHT | 38 kg |
| TESTED LIFTING POWER | 3200 kg |
| CAPACITY ON PLATES | 1000 kg |
| CAPACITY ON ROUNDS | 500 kg |
| ø MIN / MAX | 100 / 300 mm |
| MAX. WORKING TEMP | 80° C |