230-E Hot Wire Cutter THERMOCUT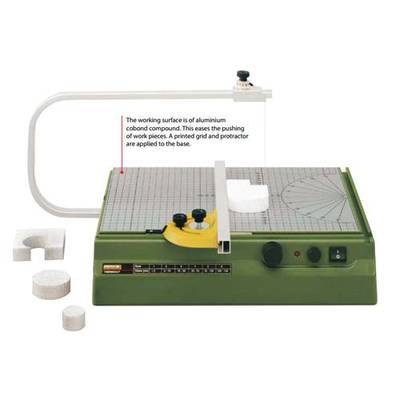 230-E Hot Wire Cutter THERMOCUT
Product Description
Description
Ideal for architectural models, designers, decorators, artists, teaching too, prototypes as well as classical railroad, plane and boat model building.
Note:
The units double wound transformer and insulation to class 2 ensure the cutter is absolutely safe. The cutting wire operates at 10V, 1A.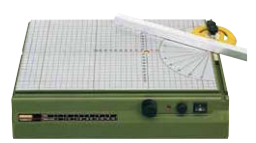 The large base with 390 x 280mm table with surface of aluminium cobond compound ensures smooth and easy movement of the workpiece. The printed grid and protractor ease division and cutting. The solid aluminium overarm has a 350mm throat and offers 140mm capacity in height. The holder and wire coil (30m, 0.2mm diameter is included) may be shifted along the overarm to enable mitre cutting. A LED indicates operation and prevents burnt fingers (the cutting wire heats to maximum in less than 1 second).
Other technical data:
230V, 50/60Hz. Transformer secondary max. 10V, 1A. Cutting wire temperature with 0.2mm diameter is variable between approx. 100 and 200 C. Weight approx. 3kg. Insulated to class 2 requirements.
NO 27 080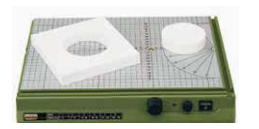 Spare cutting wire
Used on the THERMOCUT 230/E and other similar units. Made of NiCr 8020. Spool of 30m x 0.2mm.
NO 28 080