Digital Position Indicator DA 3.1
Digital Position Indicator DA 3.1
Product Description
Description
With large multi-function display, 3 glass rulers (with one sensor each) and fastening elements.
Reasonable for repetitive machining: A second start point in addition to the zero point can be set anywhere. Most important computing functions:
Calculation and indication of a centre position
Basic arithmetic operations
Positioning of drill holes on any straight lines and circular paths
Milling of crooked planes
Milling of radii in different planes
Technical data:
Digital display 265 x 182 x 48mm for 110 230V. 50/60Hz. Glass rulers for travel distances: vertical (z-axis) 220mm, transverse (x-axis) 300mm, depth (y-axis) 100mm. With a 200cm metal-sheated plug connecting line to the display.
NO 24 323
MICROMOT adapter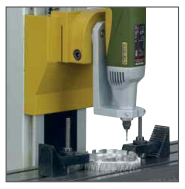 For use with high-speed MICROMOT rotary tools
in combination with the MICRO millers FF 500 and FF 500/CNC. And especially for use with the MICRO Miller FF 500/CNC. The standard milling head is exchanged for the adapter in just a few steps. Our 20mm collar enables to fasten all appliances of the MICROMOT 50 series, the MICROMOT precision drill/grinder FBS 240/E and the MICROMOT professional drill/grinder IBS/E. Especially for applications that require high speeds for small milling cutters (e.g. milling electronic boards), but also for micro drilling. Complete with fastening screws
NO 24 346
Universal dividing table UT 400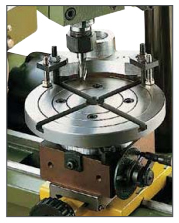 For accurate machining of circular work pieces.
The table may be fixed horizontally or vertically. Worm drive for division through 360 allowing for almost all possible divisions below 100. Supplied with 4 index plates: 27/42, 33/40, 34/39 and 36/38. Used to manufacture sprockets, gearboxes and drives, ratchets, cams, etc. (the faceplate is not included). The taper is identical to the main spindle of the lathe. With matching nuts and screws for fixation in MICROMOT standard T-slots (12 x 6 x 5mm). Supplied in a wooden box with sliding lid.
NO 24 421
Self-centering 3-jaw chuck
Identical to the lathe chuck of lathe PD 400. Capacity through reversing chucks 3 100mm.
NO 24 407