Compound table KT 150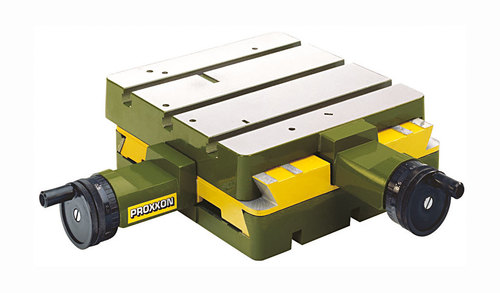 Compound table KT 150
Product Description
With precision milled dovetail slides, thus also suitable for metal work.

For routing, milling, slotting of steel, non-ferrous metals, plastics and wood. Each slide provided with locking screws. With re-adjustable dovetail guides to eliminate play. Feed adjustment by means of 2 handwheels with graduated, zero-adjustable dials (1 revolution = 2mm feed, 1 graduation = 0.05mm feed). Plane-milled table. Three continuous MICROMOT standard T-slots (12 x 6 x 5mm). Fence with predrilled positioning holes, fastening screws. A practical screw clamp used when routing. Table 200 x 200mm. Maximum travel 150 x 150mm. Overall height 75mm. Weight 4.9kg.
NO 20 150

Precision V-blocks
Used to clamp various work pieces. Made from hardened steel, precision ground in pairs. Four different depths of prism incisions V, all at 90. Size 50 x 30 x 30mm. The solid clamp and knurled knob ensure superb securing of the workpiece. Supplied in a wooden box with sliding lid.
NO 24 262
2 pieces