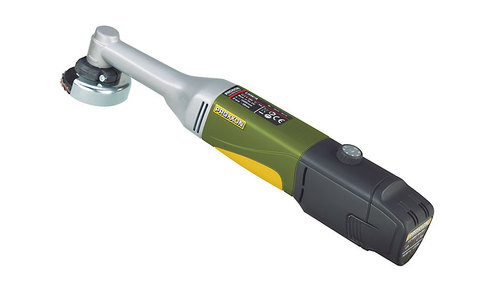 Battery-powered long neck angle grinder LHWA
Product Description
For working on steel, non-ferrous metal, glass, ceramics, wood and plastic. For cutting, roughing and grinding. With variable electronic speed control for high torque, even in the lower speed range. A corundum grinding disc (grit 60), a fan sander (grit 100) and a reinforced cutting disc are included. Safely stored in an attractive plastic case.

Set includes LHW/A, lithium-ion battery Li/A (10.8V) and rapid battery charger LG/A.

Technical data:
5,000 - 16,000rpm. 10.8V. Discs Ø 50mm with 10mm bore. Length 320mm. Weight approx. 800g (including battery).

NO 29 815



The battery-powered tool sets come safely packed in a practical, attractive and super-sturdy plastic tool case made from high-quality PP. A product label on the side of the box details its contents.



Battery-powered long neck angle grinder LHW/A, available individually
As described above, also including the specified accessories. But without battery and without rapid charger. Packed in a cardboard box.

NO 29 817
High quality 10.8V lithium-ion battery with 2.6Ah for a performance comparable to its mains-powered counterparts.

One battery charge will last at least 30 minutes even at maximum power use. No other battery-operated power tool lasts longer in this class!

Gear heads of die-cast aluminium offering exact bearing seats. Main housing of glass-fibre reinforced POLYAMIDE with soft component in grip area. Slim power tools you will love to hold!

All models with a special balanced, powerful, quiet and long-lasting DC motor.

Practical:
The flat end cap of the battery enables the tool to stand upright as well.