Air Die Grinder straight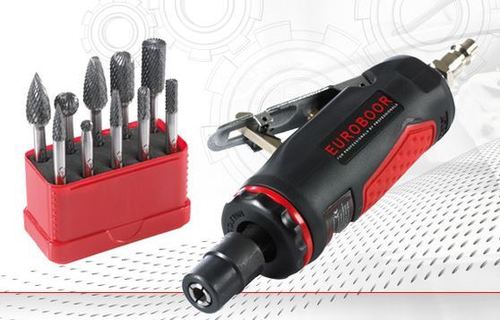 Air Die Grinder straight
Product Description
Euroboor pneumatic (inline) die grinders are known around the world for quality, durability and performance. Our line of industrial power grinders is engineered to make your job easier, safer and more efficient.

The Euroboor pneumatic grinders stand up to the demanding specifications required by todays industrial manufacturing, assembly and finishing needs.

Our Air Grinders are shipped in a carrying case including a mini-box with 10 rotary burrs.
Technical Data
| | |
| --- | --- |
| LENGTH | 148 mm |
| SPEED (no load) | 25.000 min-1 |
| WORKING PRESSURE | 6.3 bar |
| WEIGHT | 380 gr |
| AIR CONSUMPTION | 3.5 scfm |
| CAPCITY | 6 mm |
CONTENT MINI-BOX - UNIVERSAL TEETH
| | | |
| --- | --- | --- |
| 1x | RB.B0606 | Type B - CYLINDRICAL WITH END CUT |
| 1x | RB.B1206 | Type B - CYLINDRICAL WITH END CUT |
| 1x | RB.C0606 | Type C - BALL NOSED CYLINDER |
| 1x | RB.C1206 | Type C - BALL NOSED CYLINDER |
| 1x | RB.D0606 | Type D - BALL |
| 1x | RB.D1206 | Type D - BALL |
| 1x | RB.F0606 | Type F - BALL NOSED TREE |
| 1x | RB.F1206 | Type F - BALL NOSED TREE |
| 1x | RB.G0606 | Type G - ARC POINTED TREE |
| 1x | RB.G1206 | Type G - ARC POINTED TREE |