28-piece compact screwdriver set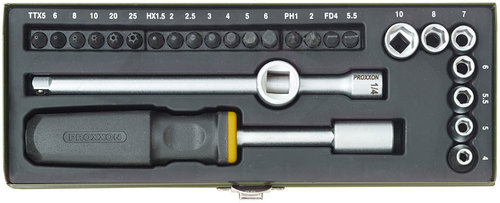 28-piece compact screwdriver set
Product Description
Screwdriver handle with 1/4" square drive (6.3mm) for direct drive of sockets. The rear of the handle is supplied with a square hole, accepting the extension as additional lever. The bits are all of high quality special steel and the TX items are fitted with a frontal hole. See photo for full contents.

Sturdy, welded steel box, powder coated for durability. With distortion-free, indestructible trays of injected POLYPROPYLENE. Oil and acid resistant and easy to clean. With easy-to-read and durable marking of all socket sizes!

NO 23 072
Screwdriver handle with 1/4" square drive. 1/4 rear end connector to fit a ratchet or a T-bar.

For full
professional use!
Sockets and drive elements
carry an additional
25 year guarantee
against faulty material
and workmanship.

Quality at its best:
Highest quality, exceeds DIN/ISO requirements for hardness and maximum torque. Individual size tolerances are all well within the prescribed norms.